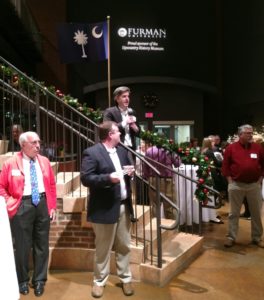 Our annual DEVITA Holiday Party, hosted by our President Darren Springer, was a huge success.  Thank you to the Upcountry History Museum in Greenville, SC for providing a beautiful and festive setting.  We enjoyed feasting on a delicious Southern spread provided by Bagatelle Caterers.  Their mashed potato bar was a huge hit.  The seasonal string accompaniment provided by Brandon Ironside on violin and Yuriy Leonovich on cello made the merry setting complete.  Thanks to all of our employees who were able to attend and brought lots of holiday spirit with them.
This season is a perfect time to reflect on our accomplishments over the past year and to thank those who've contributed to our success.  We at DEVITA are grateful for the time, talent, and energy our employees and our clients deliver every day.  We couldn't be here without you.
From all of us to all of you:  Happy Holidays!   Thank you for a fruitful 2019 and wishing you the best for 2020!